RECENT WINNERS
Iowa Hawkeye (Lope De Vega/Albaicin) wins for the 2nd time this preparation for the Ballymore Stables team of Michael Moroney and Dwayne Dunn today (9/1) at Geelong over 1755m.  Congratulations to all involved.
Hit Reset (Reset/Polar) brings up a Burnewang bred double for the day (5/1) with a very strong 4 length win at Mornington over 1500m to break her maiden for Patrick Moloney and Brent Stanley.
Pres De Toi (Helmet/Nonchalance) appreciated her sea change to Warrnambool with new owners, trainer Peter Chow and jockey Michael Poy teaming up to have her bring up a win over 1700m on 5/1.
Shamrock Joy (Not A Single Doubt/Amo La Nonna) absolutely blitzed her opposition today (28/12) at Stony Creek winning impressively over 2100m for Jason Warren & Clayton Douglas.
Seababe (Sebring-Swinging Babe) won at Gawler on 21/12 winning over 1500m for her new trainer Will Clarken and new owners Bell View Park Stud.  The mare looked to regain some of her earlier career winning form and we look forward to seeing what she can do this preparation.
Written Advice (Written Tycoon-Deeming) won at Tatura on Sunday (8/12) breaking her maiden over 1450m in just her second start.  Trained and owned with a large group by John & Chris Ledger, Written Advice showed good ability to win nicely, ridden by Fred Kersley.  The 3yo filly was a $80,000 yearling in our 2018 Vobis Gold Yearling Draft.
Cleary Adonis (Better Than Ready-She's My Belle) broke his maiden at Morphettville on the weekend (7/12) over 1550m for trainer John Hyam.  The 3yo gelding was stepping out for his 10th start and 8th of this preparation where he had finished in the placings 5 times.  Cleary was a $4k weanling and pinhooked and sold through the 2018 MM Adelaide Sale.  Congratulations to his large ownership group.  He is now spelling and we look forward to his return to the track.
Mission Phoenix (Reset-Oh Susannah) backed up his debut win on 7/11 with another at Kembla Grange today (30/11) over 2000m with Koby Jennings aboard once again.  We look forward to following his progress as he increases his ground this preparation.
Renegade (Commands-Port Isabel) returning after a 10 month break showed great fight to win over 1400m at Seymour today (24/11).  Ridden by Luke Currie, the gelding began well from a wide draw, skipped away mid race and held off the opposition for a courageous win.  Michael Shepardson from McEvoy Mitchell Racing said he will take great improvement from his first up start and win.  We look forward to tracking the rest of his preparation.
Divine Diva (Sebring-Royal Lineup) notched up her 2nd career win today for her Darby Racing connections when winning over 1500m at Mornington (18/11).  Another winner for Lindsay Park Racing and well ridden by Cory Parish.
Winning Red (I Am Invincible-Scarlet Vanhara) ran away for the pack to win impressively today at Seymour (14/11).  Having only his second career start, after a second on debut, Winning Red broke his maiden for connections and Lindsay Park Racing.  A standout yearling at the 2018 Melbourne Premier Sale, the colt was selected by Andy Williams.
Hitch Hiker Jamie (Hinchinbrook-Je'Taime) scored his maiden win at Goulburn (9/11) in just his second start.  The horse was a $110k weanling in our 2017 Great Southern Draft and successfully pinhooked by Edinburgh Park who sold him for $240k at 2018 Classic Sale.  Congratulations to all connections.
Mission Phoenix (Reset-Oh Susannah) broke his maiden on debut at Hawkesbury today (7/11) for Mark Newnham, Koby Jennings and connections.  Winning over 1500m, the 3yo gelding showed good promise.   Mission Phoenix was a $62,500 weanling in our 2017 Great Southern Weanling draft.
Tears of Jupiter (Zoustar-Snow Blitz) won at Ellerslie on Melbourne Cup Day (5/11) for her trainers Peter & Dawn Williams.  Sold by Burnewang North as a weanling in 2017 for $130,000 the filly was resold at the Karaka 2018 sale by Dave Duley from Lansdowne Park for a remarkable NZ$650,000.  Congratulations to owners Ger Beemsterboer and Sarah Green.
Iowa Hawkeye (Lope de Vega-Albaicin) breaks his maiden today (30/10) at Bendigo on Bendigo Cup Day after an impressive lead from the front effort to hold off fast finishers.  Ridden by Dwayne Dunn, Iowa Hawkeye showed what he has always promised for trainer Mike Moroney and his owners.
Reoffender (Snitzel-Port Isabel) broke his maiden at Nowra over 1100m on 22/9 for owners and trainers Amanda Turner and Mauro Poletti.
Burnewang North Bred double at Tatura with both So You Dream (So You Think-Dreamalittledream) and Double The Magic (Magic Albert-She's Double Gold) winning for connections on 21/9.
Capital City (Wanted-Elleandee) won at Beaudesert on 27/7 for her owners, clocking up her 6th win and bringing her winnings to $120,000.
Finnick (Foxwedge-Triple Latte) won convincingly over 1600m at Moe for trainer Michael Kent and connections on 20/7.
Smartcelli (Smart Missile-Limoncelli) posted her first win over 1100m for QLD trainer Tina Cotsiopoulos at Gatton and owners on 18/7.
Arctic Circle (Testa Rossa-Polar) won again this preparation over 1640m at Roma for trainer Ben Waldron  13/7.
Arleta (Artie Schiller-Galleta) won over 1200m for Sue Grills and owners at Mudgee on 7/7.
Star of Phoenix (Commands – Royal Lineup) won overnight in Macau (22/6) over 1200m distance.    This is his second career win and first since arriving in Macau.  Congratulations to connections.
Apoloboom (Kaphero – Apologies) racked up his 12th career win today (22/6) at Beaudesert winning for his new trainer Lindsay Hatch.
Arctic Circle (Testa Rossa-Polar) won over 1640m for connections at Roma today (22/6).
Good Days (Artie Schiller – Vintage Rock) saluted over 1800m at Sha Tin, Hong Kong for Trainer C.S. Shum and owners on 8/6/2019.  Good Days has now won in excess of $2.4m HKD.
Shamrock Joy (Not A Single Doubt/Amo La Nonna) appreciated the extra ground today (31/5) to break her maiden and win convincingly over 2200m at Pakenham Park for Jason Warren & Daniel Stackhouse.
Queen of Kingston (Niccon/Chloe Rose) won at Casino on 24/5 over 1400.  After finishing an excellent 4th in the $500,000 Country Championships at Randwick, Queen of Kingston has started twice for a second and another victory.
Divine Diva (Sebring/Royal Lineup) broke her maiden beautifully at Benalla on 6/5.   Ridden well by jockey Cory Parish, Divine Diva broke through for the win over 1600m (having finished 2nd in her last start) for her Darby Racing owners and Lindsay Park training partnership.
Finnick (Foxwedge-/Triple Latte) broke his maiden by winning over 1700m at Geelong on Sunday (28/4).  Having had a recent change of trainer – now with Mick Kent – Finnick has markedly changed his form and after a second in his first start this prep, followed that up with this nice win.  Seems he likes the extra ground and we look forward to following him going forward.
Arleta (Artie Schiller/Galleta) returned to the winners circle at Tamworth on Sunday (28/4) after finishing 3rd in her last two starts.  With her 3rd career win for Sue Grills and connections, Arleta relished the 1200m winning the Jardel Cup.
Apoloboom (Kaphero/Apologies) clocked up his 11th career win on Saturday (27/4) when winning the Dalby Picnics Cup over 1400m for connections and taking his total winnings for his career to $250k.
Transact (Dundeel/Rap Tale) leads from start to finish to WIN the Listed VRC St Leger Stakes on Anzac Day at Flemington.  Trained by Gai Waterhouse and Adrian Bott and ridden by Luke Currie, Transact continued on his excellent form to win at Listed level for his large ownership group. (25/4).
Podium Bound (Equiano/Chloe Rose) continued his good form to win again at Mudgee for Allan Gibson and connections on 21/4.
Arctic Circle (Testa Rossa/Polar) won for trainer Ben Waldron at her home track of Roma over 1640m on 20/4.
Millenium's Rule (Lonhro-Maree Basse) won well at Singapore overnight (5/4), bringing up his third win and taking his winnings to over $100k.
Sarge Brigarde (Charge Forward-Mists of Avalon) has appreciated his move to trainer Jade Doolan at Mackay by bringing up two wins in 7 days for his new connections on 16/3 & 23/3.
Becharm (Sebring-Kapcher) notched up her maiden win, and a city one at that, at Morphettville on 9/3.  A Burnewang North home bred and raced mare will now come to Tony McEvoy's Melbourne stable to progress this preparation.
Podium Bound (Equiano-Chloe Rose) won at Cowra on 6/3 for Allan Gibson and family connections.
Spicer (Stryker-Indian Curry) won at the Sunshine Coast on 24/2 over 1400m.  The daughter of Stryker took her winnings to $70,000 for her new trainer Kelvin Hickmott and connections.
Seababe (Sebring-Swinging Babe) won strongly on 15/2 at the Canterbury night races for Gary Portelli and connections.  After a strong showing on 2/2, the Sebring mare took control of the race and was ridden beautifully by Jenny Duggan to notch up a lovely city win.
Hero Champion (Von Costa de Hero-Valour) has had back to back wins at Selangor, Singpore on 6/2 & 16/2 over 1400m.
Bounty Belle (Reward for Effort-Meribel) backed up 26/12 win over 1400m with another on 13/1 for her trainer Leslie Bryant at Wellington.
Apoloboom (Kaphero-Apologies) overcame a frustrating preparation so far to win well at Doomben on 9/1 over 1350m.  Ridden by Jeff Lloyd for Boom Racing connections, Apoloboom has taken his career earnings to over $250k.
Hard Got (Reward for Effort-Limoncelli) won  on 15/12 at his home track of Wangaratta over 1590m.  Hard Got appreciated the sting out of the ground and was impressive for his owners and John & Chris Ledger.
Rapture Miss (Smart Missile-Rap Tale (USA)) a Burnewang North bred, owned by our close friend Eric Lucas, won very well at Rosehill on Saturday 24/11.  Ridden beautifully by Kerrin McEvoy and trained by Matthew Dale, we look forward to watching her progress further this preparation.
Spicer (Stryker-Indian Curry) won at Stawell on 30/10, trained by Darren Weir and ridden by Dean Yendall.  She was a graduate of the Inglis Great Southern Sale.
It's a TRIFECTA for Burnewang North bred's today (20/10) with So You Dream (So You Think-Dreamalittledream (IRE)) clocking up his 2nd win for connections at Bendigo  for trainer Robbie Griffiths and Brad Rawiller, Double The Magic (Magic Albert-She's Double Gold) successfully travelling to SA to win at Morphettville for Darren Weir and team and King Caesar (Snitzel-Fashion Black) breaking his maiden at Wagga for Wayne Carroll.
Weidman (Haradasun-Presidential Suite) won the fourth at Donald for trainers Michael & Luke Cerchi and jockey Dylan Dunn on 9/10/18.  His second win for connections.
Misscino (Smart Missile-Limoncino) ridden by Harry Coffey and trained by Darren Weir won nicely at Tatura on 7/10.
Bonney (Denman-Valour) raced in syndicate with our Rochester friends leads from the front to win nicely at Wangaratta on 4/10.  She is trained by the Ledger Family.
The ever consistent Resistant (Choisir-Swinging Babe) won over 1200m for Yulong Investment connections at Wuhan in China.  The stakes placed performer in Australia has taken his winnings to well over $400,000.
Queen of Kingston (Nicconi-Chloe Rose) makes it 5 career wins to date with another first passed the line on 30/9 at Ballina for trainer Daniel Bowen.
Transact (Dundeel-Rap Tale) trained by Gai Waterhouse and Adrian Bott makes it back to back wins with an impressive win at Newcastle on 29/9 over 2300m.  The progressive 3yo colt will now head to Melbourne for his next races.
Rapture Miss (Smart Missile-Rap Tale) wins with a dead heat at Moruya on 28/9 for Matthew Dale and owner, our close friend and associate Eric Lucas.
Count Nicconi (Nicconi-Paymistress) wins nicely at Geelong for trainer Ray Besanko and jockey Chris Symons on 21/9.
Vivendi (Equiano-Hidden Charges) relishes the change of scenery after her move to Albury and Mitchell Beer's stable saluting on 17/9 at Corowa.  She was a graduate of our 2016 Melbourne Premier Draft.
Transact (Dundeel-Rap Tale) trained by Gai Waterhouse and Adrian Bott continued the excellent run of Dundeel's 3yo's winning impressively after leading from start to finish at Cessnock on 17/9.
Misscino (Smart Missile-Limoncino) convincingly broke her maiden on Sunday 9th September after having finished 2nd on 8 previous occasions.  The Darren Weir trained filly won for her connections at Casterton.
Menina, a 3yo daughter of Exelebration broke her maiden for trainer David Brideoake at only her second start on Sunday at Geelong.  Menina is a daughter of Burnewang North broodmare Scarlet Vanhara – we look forward to watching her progress.
Day one of the 2019 breeding season brought with it a triple of Burnewang North-bred winners.  Apoloboom (Kaphero-Apologies) chalked up his 9th victory winning The Dalby Cup, Arctic Circle (Testa Rossa-Polar) also won at Dalby and Queen of Kingston (Nicconi-Chloe Rose) winning for connections at Grafton.
Moruya is the place to be today!  Another Burnewang North-bred Rapture Miss (Smart Missile-Rap Tale) making her first start for six months, rocketed home from last place at the top of the straight to win the Class 2 over 1435 metres, a great effort first-up.  This enigmatic mare hasn't been further back than 5th in 10 career starts; there's no doubt the ability is there and full credit to trainer Matthew Dale.  Rapture Miss is the seventh Burnewang North-bred winner in August to date.
Dashtorush (Sebring-Limoncelli) appreciated every metre of the 1660 metres at Moruya today 19 August to break his maiden. The Burnewang North-bred is the second winner from 2 to race out of his dam who is an Encosta de Lago half-sister to Group winners Girl Gone Rockin' and Syreon and a daughter of G2 winner Sorrento.
Well-travelled weekend warrior Ayers Rock (Nicconi-Vintage Rock) bobbed up in Adelaide on 18 August and made every post a winner over 2000m, gripping on tenaciously.  It was the Burnewang North-bred Flemington stakeswinner's fourth victory for trainer Shawn Mathrick.
Another Burnewang North-brand-bearer saluted on 12 August at Sunshine Coast in the form of Pinch Passion (Denman-Valentine Rose).  The 4YO was registering his
third success and took his earnings past the $100k mark.
It didn't take long for new season winners numbers two and three to stand up. Gracing the track for the first time in six months, having been placed at her first three starts, Burnewang North bred Spicer (Stryker-Indian Curry) powered home to graduate from maidens at Warracknabeal today 7 August.  Spotted at a Great Southern Weanling Sale by Darren Weir, Spicer was a value-for-money $8,500 purchase.  She is a half-sister to a former useful filly in Queensland, Fallen For You.  Three days earlier, Podium Bound (Equiano-Chloe Rose) scored at Coonamble.
Our first winner for the new season! Burnewang North-bred and part-owned mare Aphrodite Rock (Commands-Vintage Rock) scored her second victory from just four starts on the Geelong synthetic today 3 August.  Jockey Regan Bayliss played a waiting game at the tail of the field until letting her go around the others on the home turn, a run which she sustained right to the line. Aphrodite Rock is a half-sister to stakeswinner Ayers Rock (Nicconi) and to Hong Kong-based Good Days Artie Schiller).
Di Wang Feng Fan (Hard Spun-Apologies) won again over 1200m at Yulong Racetrack at the weekend.  See the race – he's number 3 in red and yellow silks – and the
jockey's victory salute here
Win number 8 for the hardy Burnewang North-bred Apoloboom (Kaphero-Apologies) at Doomben 7 July. He's a half-brother to Di Wang Feng Fan (below).  Apoloboom's earnings have now topped $180,000, he's been a fun horse for a $15,000 Melbourne Premier 2 buy.
Yulong (China) winner Di Wang Feng Fan is by Hard Spun and is one of four Burnewang North-bred winners out of the Giant's Causeway mare Apologies. Di Wang Feng Fan was a $90,000 2015 Inglis Classic Sale yearling and was exported to China unraced shortly thereafter.
TRANSLATOR GETS A RUN IN THE VRC DERBY
Burnewang North bred Helmet colt, Translator (Helmet-Babel by Lonhro) will be flying the clover flag at Flemington on Saturday after gaining a run in the time honoured VRC Deby over 2500m.
Translator was a part of our 2019 Inglis Melbourne Premier draft of yearlings and was overlooked by buyers due to his mid November foaling date and his sire Helmet, being unpopular at the time.  Back at the farm, the horse had always been a firm favourite with staff, being a lovely horse who would just need a little time.
Nigel Blackiston approached us after the sale to say that he was interested off the back of the colt's pedigree page which included Nigel's star runner Littorio who won in excess of $2.5m.  Nigel and his team have bided their time and with patience have produced a progressive horse who put in a great showing in the Listed Geelong Classic to finish 4th having been wide with no cover.
We wish Translator, Nigel and the large ownership group all the very best for Saturday.  We will be cheering him home.
Babel has produced a lovely Russian Revolution filly this season and is in foal to So You Think.
31st October 2019
GOOD DAYS AT SHA TIN
Good Days (Artie Schiller – Vintage Rock) saluted over 1800m at Sha Tin, Hong Kong for Trainer C.S. Shum and owners on 8/6/2019.  Good Days has now won in excess of $2.4m HKD.
8 June 2019
DIVINE DIVA EXCELS AT BENALLA
Divine Diva (Sebring/Royal Lineup) broke her maiden beautifully at Benalla on 6/5.   Ridden well by jockey Cory Parish, Divine Diva broke through for the win over 1600m (having finished 2nd in her last start) for her Darby Racing owners and Lindsay Park training partnership.
6 May 2019
3 WINNERS OVER THE WEEKEND
3 Burnewang North bred winners over the weekend (27 & 28 April), with APOLOBOOM saluting for the 11th time in his career, winning the Dalby Cup for Boom Racing and connections.  ARLETA won the Jardel Cup at Tamworth for Sue Grills and connections and FINNICK broke his maiden for new trainer Mick Kent at Geelong.
28 April 2019
TRANSACT SALUTES ON ANZAC DAY IN TIME HONOURED VRC ST LEGER STAKES AT FLEMINGTON
Transact (Dundeel/Rap Tale) bred by Burnewang North in partnership with our colleague Eric Lucas, led from start to finish with a valiant front-running performance to win the VRC St Leger Listed Race at Flemington on Anzac Day (25/4).  Ridden brilliantly by Luke Currie, Transact saluted for a large group of owners with an excited Gai Waterhouse outlining her plans to push on to the South Australian Derby with him.
Transact's win makes him the 8th stakes winner for his sire Dundeel.
25 April 2019
BECHARM WINS AT MORPHETTVILLE
Burnewang North home-bred Becharm (Sebring-Kapcher) toughed out the fight to the line on Saturday at Morphettville to break her maiden in style.  Always a favourite of those at home on the farm the mare will now come to McEvoy Mitchell's Melbourne stables to continue her prep.
9 March 2019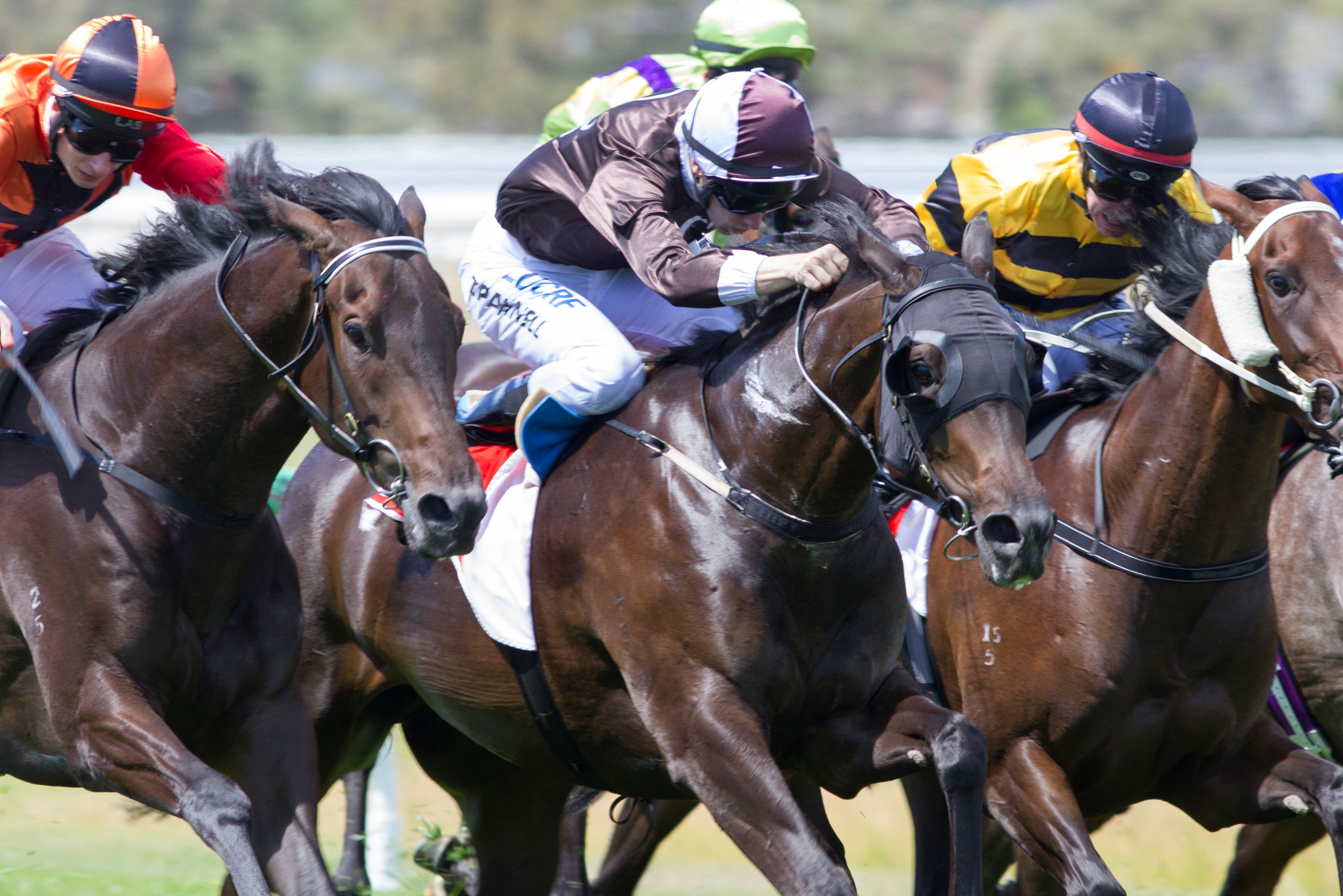 SEABABE LIKES THE NIGHT LIFE
Seababe (Sebring-Swinging Babe) notched up another career win when she passed the post first at Canterbury on Friday night (15/2).   Having finished a very close 2nd in her last start, this win was fully deserved and the mare was ridden brilliantly by Jenny Duggan.  Congratulations to all connections.
15 February 2019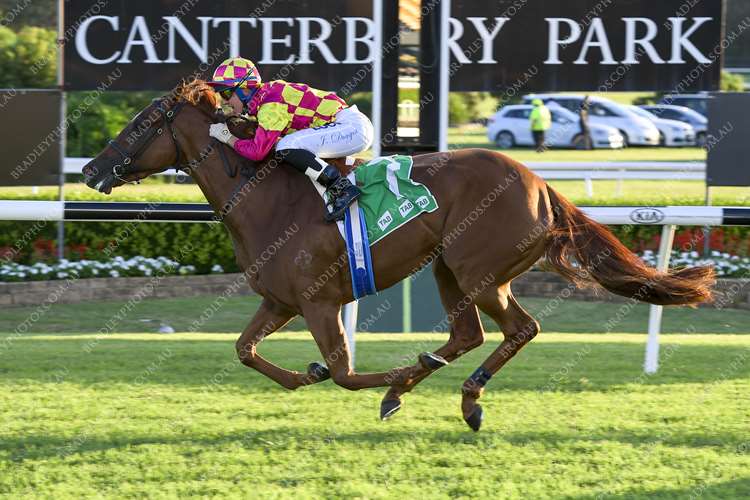 MISS CARBONI LIVES UP TO THE WRAPS
The Burnewang bred Miss Carboni (Helmet – Gold Digger Miss) was a graduate of the 2017 Melbourne Premier sale and always promised to live up to her good looks.  Purchased by Johnny McKeever for Archie Alexander she is now raced by OTI Racing and others including ourselves.  After a strong 2nd in her maiden run at Terang on 23/11 (in horrendous weather conditions), the filly stepped up to 1300m at Stawell on Saturday and broke her maiden convincingly.  We look forward to her progressing this prep.
CATEGORIC WINS WELL AT NEWCASTLE
The Chris Waller, Star Thoroughbreds owned CATEGORIC (Zoustar – Thekatcamehome) fought on strongly to win over 1400m at Newcastle on Saturday.  Ridden superbly by Kathy O'Hara the gelding showed promising signs with a strong finish.  This is a special horse to us as it was selected for Denise by the late Steve Brem, who also selected the mare on our behalf at Keenelands.
                                                                                                                                                                                                                                                                        8th December, 2018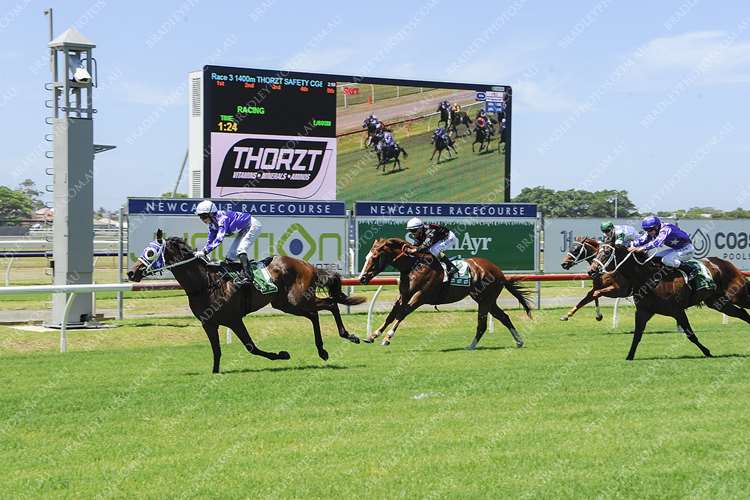 RAPTURE MISS SALUTES AT ROSEHILL
Rapture Miss (Smart Missile x Rap Tale) saluted at Rosehill on Saturday 24th November 2018.  Running over 2000m and ridden beautifully by top jockey Kerrin McEvoy, the mare was tenacious in victory.  Co-bred by Burnewang North with our friend Eric Lucas, Rapture Miss is trained by Matthew Dale.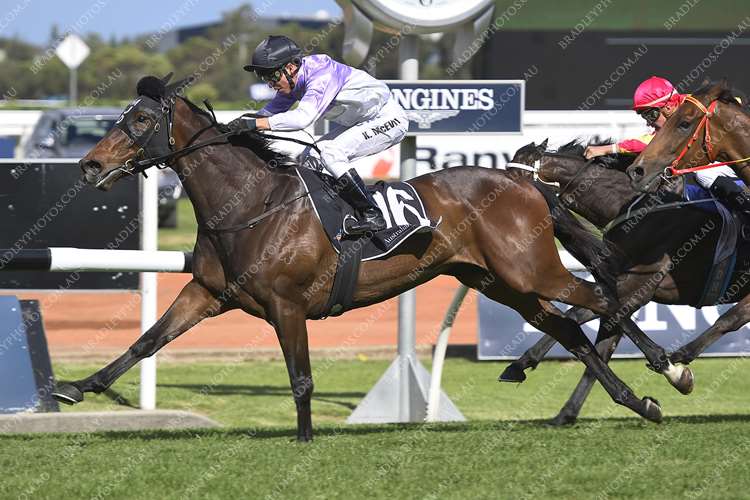 24th November 2018
IT'S A WRAP!
An early morning foal on Saturday, 17th November finished off a successful 2018 foaling season for Burnewang North.  We are thrilled to have foals by first season sires Star Turn, Sooboog, Flying Artie, Astern, Shalaa, Divine Prophet and Holler, foals by by up and comers Dissident, Deep Field, Exosphere, Pride of Dubai, Capitalist, Vancouver and Brazen Beau and also subjects of proven sires Nicconi, Sebring, Pierro, So You Think and Street Boss on the ground.  We look forward to offering them to you as weanlings at the 2019 Magic Millions and Great Southern Sales.
17th November 2018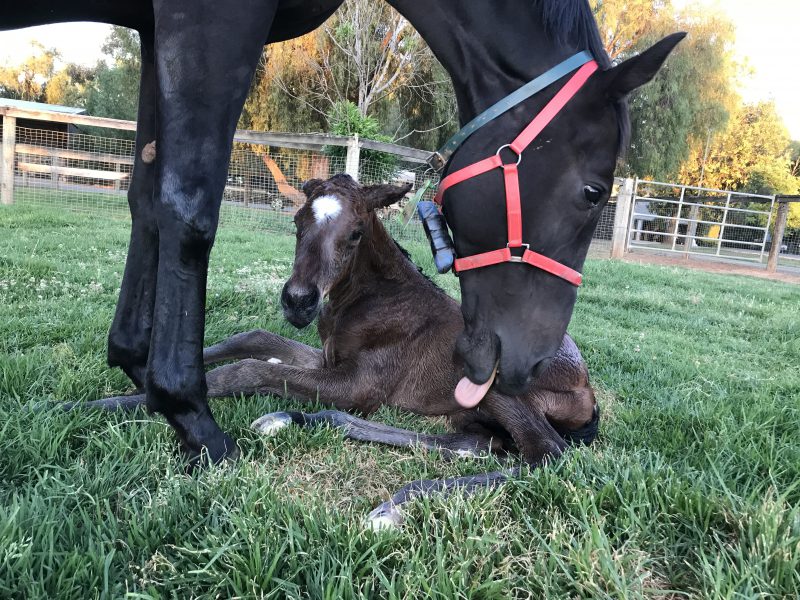 Kapcher and her Capitalist Colt – the last foal of 2018
VALE STEVE BREM
PRES DE TOI DELIVERS FOR THE PUNTERS
GOOD THINGS COME IN THREES!
TE AMO, WE LOVE YOU TOO !
ROYAL ADVANCE: QUICK MARCH!
100 – A MAGICAL NUMBER
MORE HAPPY DAYS AT THE VALLEY
HAPPY DAYS FOR GOOD DAYS
MILADY CABRIOT'S DAY IN THE SUN
APHRODITE, SHE ROCKS!
A BON NOEL FROM BONNEY
NICCATRICE BRINGS HIS BEST FORM TO TOWN
PRES DE TOI A PROMISING STAYING FILLY
SOMETHING YOU DON'T SEE EVERYDAY
PINCH PASSION'S DESERVED WIN
SEA-ING DOUBLE
THIS BONNEY FLIES, TOO
RIGHT TIME OF YEAR FOR A 'KINGSTON' TO BE WINNING
IT'S A LONG ROAD THAT HAS NO TURNING – NATIONAL VELVET
SEAGLASS ALL CLASS
CHARMED I'M SURE
NORTHERN CHARM LOVES THE NIGHT LIGHTS
SEPAREE TAKES THE NEXT STEP
HOME RUN AT FIRST ATTEMPT
SEPAREE TAKES THE HONOURS AT KYNETON
LOST CAUSE COMES GOOD
MAGIC RESULT FOR PARTNERSHIP
AT LAST: POINTS FOR ATTENDANCE
TWO-STATE DOUBLE FOR BURNEWANG NORTH PAIR
FROM BURNEWANG TO ADELAIDE, VIA TASMANIA
ANOTHER CLASS RECORD TO NICCOLANCE AT ROYAL RANDWICK
FIRM TRACK SEES NICCOLANCE GRADUATE IN STYLE
ANOTHER STEP UP THE LADDER FOR APOLOBOOM
DAWN'S FIGHT WINS THE BATTLE
MILLENIUM'S RULE GRADUATES IN SINGAPORE
RICH RIVER STILL FLOWING
RECKLESS ABANDON MAKING IT A HABIT
TWO-IN-A-ROW FOR RECKLESS ABANDON
VON GALLETA EASILY AT BALLARAT
RECKLESS ABANDON REGAINS WINNING FEELING
WINTONIA: VALUE FROM THE VOBIS SALE
GOOD GRASS = FAST HORSE
MIDWEEK SUCCESSES FOR RICH RIVER AND NICCATRICE
BURNEWANG YEARLINGS SET NEW BENCHMARKS AT BUOYANT MAGIC MILLIONS
TONIGHT'S HERO
NICCATRICE and NORTHAM
XTRAVAGANT'S RECORD-BREAKING GROUP 1 NZ 2000 GUINEAS WIN PUTS SPOTLIGHT ON FASHION BLACK AND HER SNITZEL COLT (Lot 211) GOING TO MAGIC MILLIONS
WIN NUMBER THREE FOR NICCATRICE
SUN THUNDER REIGNS SUPREME AT BALLARAT
AYERS ROCK UNMOVEABLE IN WIRE-TO-WIRE FLEMINGTON TRIUMPH
APOLOBOOM HAS LIFT-OFF
SECOND WINNER FOR SKATING'S GRAND-DAUGHTER
STRYKING GOLD BECOMES ROYAL LINEUP'S THIRD WINNER
LUXURY DOES A 'GAP JOB'
WHO NEEDS A QUOTA SYSTEM?
WELL-BRED DESERT QUEEN GRADUATES AT GEELONG
BURNEWANG NORTH BREEDS SEASON'S FIRST 3YO 2000m WINNER
EVERYDAY HERO, SHEEZSINGLE MAINTAIN THE MOMENTUM
BURNEWANG'S FOUR LEAF CLOVER COVERS THREE STATES
SHE'S VALUE NO DOUBT
QUALITY WEANLINGS KEENLY SOUGHT AT GREAT SOUTHERN SALE
MUM'S FOR SALE ON 22 JUNE
RICH RIVER CRACKS THE TON – HALF-SISTER SELLS 4 JUNE
REMUNERATOR TAKES THE CASH IN SPARKLING GOSFORD DEBUT
SMOOTH FRESH-UP WIN BY LAGUNA VISTA
DISSIDENT AND FLEUR FATALE: THEIR FUTURE IS OURS, TOO
NEVER-SAY-DIE EFFORT FROM CLASH OF CLANS IN FIRST VICTORY
TRAINER SCORES WITH 66% OF HIS TEAM
AVERAU'S SENSATIONAL SUMMER FORM CONTINUES
NO DOUBT ABOUT ALL MY LOVING'S STAMINA
LUXURY IN MILESTONE VICTORY FOR BURNEWANG NORTH
AVERAU DOMINANT IN WINNING TIME-HONOURED BAGOT HANDICAP
NEW YEAR'S EVE VICTORY TO VON COSTABEEL
AVERAU BEATEN A NOSE IN STAKES; RECKLESS ABANDON SCORES AGAIN
CHELSEA CHEQUES IN ONCE MORE
RECKLESS ABANDON WINNER NO. 22 FOR NICCONI
AVERAU NOW TWO-IN-A-ROW
BURNEWANG NORTH PROUD WINNER OF GMW 2014 RURAL WATER AWARD
MILITARY'S GUN RECORD
AVERAU HANDLES DISTANCE WITH EASE
STARDUST TWO
CONSISTENT RESISTANT WINS THE MOE MILE
SHEEZSINGLE BRIDESMAID NO LONGER
AVERAU & KIRCHNER BREAK THROUGH
KINGSTON CONNECTION
IT'S THAT TIME AGAIN
STARDUST ONE SHINES AT GEELONG
South African Winner for Sebring Tara Madgwick – Monday, 4 August 2014
REIGNING: FOUR TRAINERS, FIVE WINS
GENERALIFE'S DAM AMONG NEW MARES CALLING BURNEWANG NORTH 'HOME'
100% CLEARANCE AT GREAT SOUTHERN SALE
FOUR SOLD AT THE GOLD COAST
LAGUNA VISTA AT HOME ON THE SYNTHETIC
VOBIS GOLD YEARLING SALE YET TO REALLY TAKE OFF
BETTER CALL SAUL PLAYS THE STRAIGHT MAN
LAGUNA VISTA SALUTES FIRST UP
VICTORIAN STOCK HORSE OPEN CHALLENGE WINNER
FICKLE FASHION PRODUCED PEAKS AND TROUGHS AT MELBOURNE PREMIER
LIFE GOALS ARE MOST IMPORTANT
RICH RIVER: PASSED IN AT THE SALE, HARD TO GET PAST ON THE TRACK
SO, WHAT'S THE CRAIC?
CHELSEA HOTEL COMPLETES A CITY DOUBLE FOR PREMIER SALE GRADUATES
RESISTANT ANOTHER WORTHY MELBOURNE PREMIER GRADUATE
ALL MY LOVING HITS WINNING BEAT
COMING UP ROSES
BACK TO BACK FOR INKJET SPRINTER
BURNEWANG NORTH TOPS THE MILLION AT THE MAGICS!
NEW YEARS EVE DOUBLE FOR BURNEWANG NORTH
CHELSEA HOTEL RESUMES ON HIGH NOTE
FIRST FOAL, FIRST START, FIRST EQUAL
THRIVING ON CITY LIFE
SOUTH AFRICAN SUCCESS FOR 'THE FAMILY'
BNP BLOODLINES ENHANCED AT FLEMINGTON CARNIVAL
DAN AND THE SECRETARY!
STAYING LINES COMING TO THE FORE
HOPES AND DREAMS
LOVING SPRING AT BURNEWANG NORTH
BURNEWANG NORTH SCORES AT HEADQUARTERS
A LITTLE MIRACLE, A BIG THRILL
TOO FIT, TOO HONEST, TOO GOOD!
GOING OUT WITH A BANG
HAT TRICK AT WAGGA WAGGA
BACK TO THE SCENE OF THE CRIME
VET WITH VERSATILITY!
BOURGEOIS BABE SUCCESSFUL
MOONEE VALLEY LOVE AFFAIR
MINING IN THE HUNTER VALLEY
GEE, SHE'S BACK
YOUNG ZABEEL BLUE-BLOOD JOINS BURNEWANG BROODMARE BAND
COMING UP ROSES
GRAZED ON GREATNESS
FUNNY NAME, SERIOUS RESULT
ENJOYING LIFE
AMO LA CAVIAR!
Averau For Oaks
The Legacy of Kingston Park Stud
The Monkey Had Become A Gorilla
Burnewang North Staff Taking All The Spoils!
The Bells Keep Ringing
History Of Sorts at Sandown-Hillside
Magnetron a First for Gai and Denise
All Sold At 2013 Melbourne Premier Sale
Another Week, Another Winner
OUR OWN LITTLE MIRACLE
FLYING VISIT FROM CAULFIELD – 22 February 2013
ON THE TRACK AND HAVING A CRACK
SNOW FLAME IN THE FRAME
RESISTANT IS WILLING
WITHDRAWN BUT NOT FORGOTTEN
Inaugural BNP Magic Millions Draft Well Received
CITIZEN OF THE YEAR
BERTIE CHIMES IN FOR SECOND WIN
THIS IS THE LIFE
IT'S ALL HAPPENING AT CHELSEA HOTEL
APRES WINS AT MOONEE VALLEY
IT'S GOLD GOLD GOLD
BURNEWANG NORTH GRADUATE EXCELS AT NZ R2R SALE
NEW US MARES FOR 2013
INCHES FROM AN INTERSTATE DOUBLE – 10TH NOVEMBER
GAI WATERHOUSE'S FLYING VISIT
SPRING CHAMPIONS
GOOD THINGS HAPPEN IN THREES – SEPTEMBER 2012
TESTING THE WATERS AT SURFERS PARADISE
FROM SMALL ACORNS, OAKS ARE GROWING
IT'S SHAPING UP TO BE A TERRIFIC FOAL CROP
GRAZED ON GREATNESS – AUGUST 2012
2012 MAGIC MILLIONS NATIONAL YEARLING SALE – 5–6 JUNE 2012
SPEEDY GRAPHITO WINS AT MORNINGTON – 7 MAY 2012
2012 MELBOURNE PREMIER YEARLING SALE
2012 MELBOURNE PREMIER YEARLING SALE – 27–29 FEB 2012
DRAW FORWARD – TRIPLE WINNER – 17 DECEMBER 2011
BURNEWANG NORTH BREEDS FIRST AUSTRALIAN WINNER FOR HENNY HUGHES – 15 DECEMBER 2011
CATHY HAINS JOINS TBV BOARD – 13 DECEMBER 2011
HERMES SALUTES FOR HAINS AND ARROWFIELD
BLACK TYPE FOR BULWER BAY
NZ WINNER FOR BURNEWANG NORTH BLOODLINES
BURNEWANG NORTH SALE GRADUATE EARNS BLACK TYPE
ROCHESTER FLOODS – JANUARY 2011
BURNEWANG NORTH PROGENY UPDATE – JANUARY 2011
KINGSTON ACACIA FLYING THE FLAG FOR KING OF ROSES IN THE UK
SUCCESSFUL 2010 MELBOURNE AUTUMN YEARLING SALE
CLOSE 2ND IN 2010 INGLIS AUTUMN PLATE
BURNEWANG NORTH LEADING VENDOR BY AVERAGE AT MELBOURNE PREMIER (OVERALL SESSION 1&2)
IT'S UNANIMOUS – BURNEWANG NORTH BEST ON GROUND
FIRST WINNER FOR BURNEWANG NORTH – FEBRUARY 17 2010
2009 BURNEWANG NORTH YEARLING UPDATES – JANUARY 2010
BURNEWANG NORTH BUYS MARES AT KEENELAND – NOVEMBER 2009